How to download twitch clips?
Just a few quick words on how our Twitch Clip Downloader operates. If you know the ways of the ninja, - no need to read this. And for the rest, - it is annoyingly easy to use clip.ninja to download clips from Twitch. So do you know how anything can be accessed via web browser and everything has a web address? Well, it's like basic internet knowledge... In any case, websites are accessed by their address, but pages on websites usually have longer address, hence they are called Links. And every clip can be accessed online by its own link. So we need that link for the clip you want to download. Once you have it, - it's as easy as eating a warm slice of apple pie! Or throwing a ninja star. Whatever your skill level is..
1 -

Find & Open Clip on Twitch.TV
2 -

Copy Clip Link to Clipboard
3 -

Paste Clip Link into White Box
4 -

Hit Submit & Become Ninja
How to find & copy Twitch Clip Link?
There's a great article on twitch about clips, there's also a part in it related to sharing the clip (on social networks). There it tells you how to outwit the system and grab the link.. No, just kidding, it's not that hard really. No special wits required. If after reading that article you are still not sure what to do, here are 3 common situations and how to go about them.
Browser Address Bar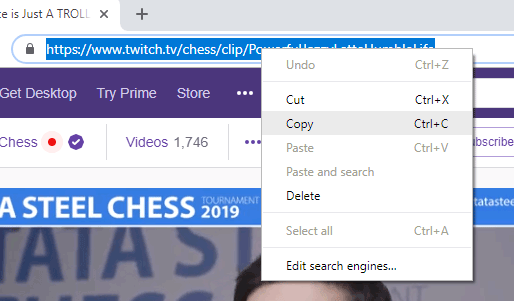 If using browser, open the Clip you want to download; Right-Click on the address bar; in the menu select Copy.
Mobile: Tap & Hold address bar, select Copy.
Clip Share Button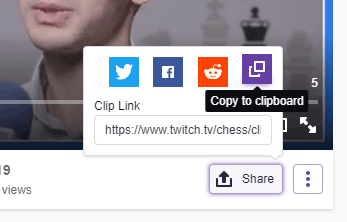 Click the standard Twitch Share Button usually located bottom-right of the video; in the menu select Copy To Clipboard.
Mobile: in standard share screen find Copy to Clipboard.
How to convert Twitch Clips to mp3?
Yes, you have read this correctly. We are ninja-pioneers of twitch clips to mp3 conversion. Our website can actually convert your short twitch clip to mp3, so you can download the audio and put it as your phone ringtone.. Or maybe crazy friend yelling "dieeeeeee!!!" could become your alarm tone.. You know everything is possible these days, and imagination is really the only limit.. Use this audio wisely... Well, generally the process is very simple. After you have found the Clip Link and entered it into the box, clicked Submit and received the big red Download button, there will also be a less discrete Convert to Mp3 button. Hit that button, it will disappear just to come back bigger, stronger and greener (for some people it's more important)! Feel free to hit the big green button, it has its own process, please, be patient. Usually 30sec video will convert in about 5-10 seconds, resulting mp3 being HQ 256-320kbps bitrate. Only 1 click is enough, button will show converting indicator. MP3 download will start instantly upon completion of conversion.